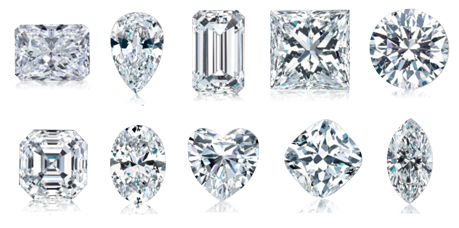 Selecting the right type and style of diamond jewelry can be extremely challenging. Buying diamond jewelry is a serious investment and this piece of jewel will stay in your family for generations. In order to help you select the right style of jewelry that matches somehow your personality traits, check out the tips below.
Fashion is everything for me
If you believe that you are an extremely passionate fashion expert, and you always invest in the latest trends when it comes to clothes and jewelry ...then you need to think out of the box when it comes to diamonds. Have a look online at the trendiest and most intricate pieces of jewelry. This will help you get an idea about what would you really lie. You will definitely stay away from classic shapes and styles and rather invest in diamond jewelry having that "wow" factor such as: ceramic plate pendants filled with tiny colored diamonds, striking color combinations of rose gold and blue diamond rings or shocking pure white and black diamond jewelry combinations.
I have an incurable classic heart…
If watching 'Breakfast at Tiffany's" or reading "Wuthering Heights' brings tears to your eyes every time…then you have a truly classic heart. Of course you will be looking for diamond jewelry that is timelessly classic such as: elegant diamond stud earrings, pear shaped pendants, princess cut diamond rings, and so on. You will also generally look for extremely delicate pieces of jewelry and try to stay away from intricate, ultra-modern designs and finishes.
I am a truly party girl who loves urban chic
If jeans, tight tops, leather coats, knee high boots are things that make you happy, you should know there is diamond jewelry available that will make you even happier. You do not want that elegant and classic style in jewelry, but you are looking for something hip and trendy yet timeless. A good suggestion is to look for diamond set hoop earrings, stackable style diamond rings or bangles, diamond necklace in layers, or diamond cuff style bracelets.
I'm romantic. Floral. Feminine
If you love ultra feminine dresses, natural makeup, classic hairdos and chic stilettos…then you are looking for diamond jewelry that has a modern touch yet still maintains a pure and classy elegance. Some good suggestions include: white or colored flower detail style earrings and pendants, emerald cut diamond engagement rings or stylish bracelets with flower or stars details. An extremely chic, romantic and trendy diamond necklace style is the one featuring a shooting star, which is the symbol of hope so important for the romantic hearts!